How Amazon Dominates the Competitive Search Landscape
This report examines Amazon's search performance in established markets (US/UK). With unique competitive intelligence insights, the report also explores how Amazon will focus investment in the channel to drive growth as they expand into the AU region (Q4, 2017).

Featured in this report:

What is Amazon's share of adspend in US/UK markets? How much clickshare does this win them?

What are the three key factors which contribute to Amazon's dominant search performance?

What is Amazon's search endgame? How much of an advantage does brand awareness and loyalty give them in established markets?

How will the retail landscape change after Amazon enter the Australian market?
"Amazon's expansion into Australia will be the biggest disruption we've seen in decades. During these periods of disruption we've found companies actively seek out competitive clarity and use this intelligence to respond to market threats and exploit emerging opportunities."
- Ian O'Rourke, CEO and Founder, Adthena
[Excerpt] What should Australian retailers expect from Amazon's arrival?
In key verticals, where Amazon are likely to scale operations first, there will be significant disruption and loss of marketshare for regional retailers. In consumer electronics, Amazon's share of search is expected to grow rapidly, capturing 49% of the online market by 2023 when they are fully established.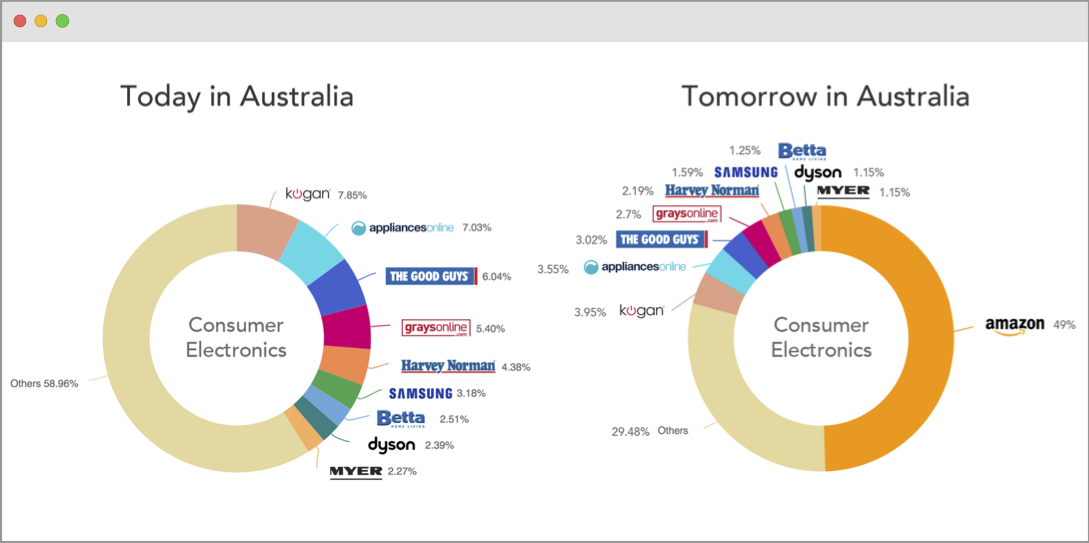 To download the full report, please complete the form on the right.